TREND Community's Report on Understanding the Mental Health Impact for People Living With Scleroderma Using Real-World Evidence: A Social Media Analysis
PHILADELPHIA, July 7, 2023 – TREND Community, a digital health analytics company that turns the conversations of rare, chronic, and emerging disease communities into actionable insights today announced that its abstract, titled "Understanding the Mental Health Impact People Living With Scleroderma Using Real-World Evidence: A Social Media Analysis will be presented as a poster at the National Scleroderma Foundation Conference on July 14th in Orlando, Florida. The abstract is based on a study that leveraged TREND's analysis of over 9,114 posts/comments from 1,533 members across 9 years (2014 to 2023).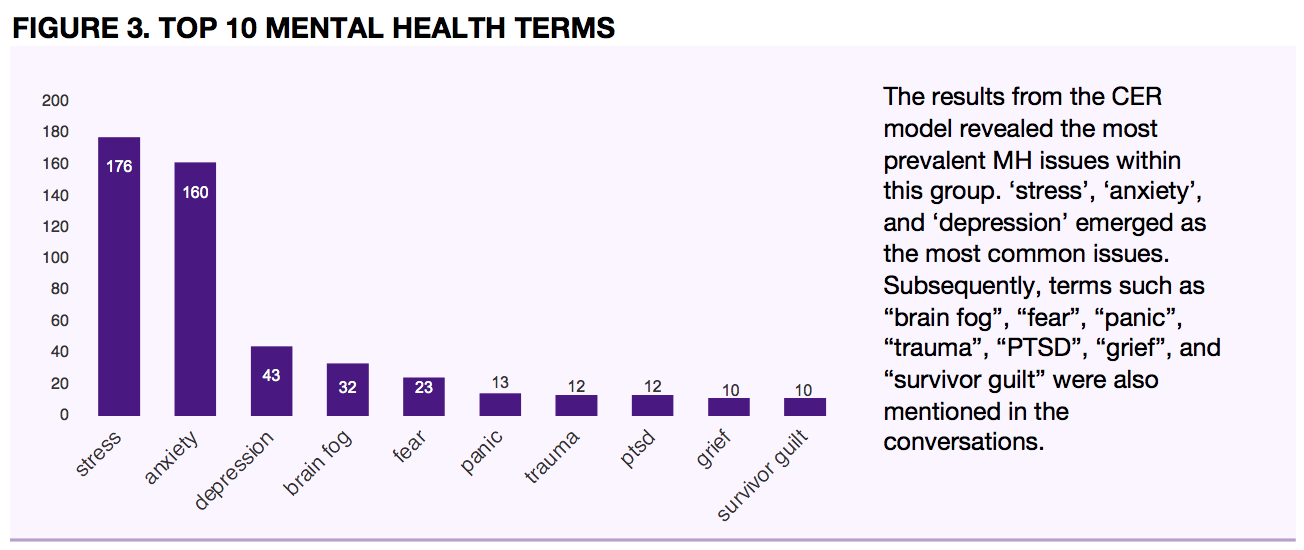 TREND's proprietary analytics engine, which incorporates artificial intelligence (AI) and natural language processing (NLP), sought to understand the mental health challenges associated with living with scleroderma and actively listen to and interpret their experiences. The mental health classification results showed that 16.4% (1,491/9,114 posts/comments) of the conversations were mental health related. Stress, anxiety, and depression were the top 3 mental health impacts. The mental health co-occurrence network showed that these 3 impacts were all connected with 'autoimmune problem', 'pain', 'Raynaud's', 'fatigue', 'scar', 'rash', and 'acid reflux'. Stress and anxiety were also connected to many other clinical findings, such as 'brain fog', 'morphea', 'CREST syndrome', and multiple gastrointestinal issues (e.g., 'irritable bowel syndrome', 'celiac', 'stomach symptom').
For the abstract and poster please use this link.
The authors are Enming Zhang, Maurice Flurie, Lauren Dougherty, Jessica Massengale,  Brian LaMoreaux, Daniel Martinez, Kristina Davidson, E. Robert Wassman, Christopher DeFelice, and Maria Picone.
This work was funded by Horizon Therapeutics, plc.
For additional information about this poster or collaboration and partnerships with TREND, please contact: Maria Picone at interested@trend.community.
About TREND Community
TREND Community turns the conversations of people who have rare, chronic, and emerging diseases and their caregivers/care partners into actionable insights through our proprietary evidence-accelerator approach. Above all, we prioritize the privacy and trust of every community member. For more information visit https://trend.community.
About Horizon
Horizon is a global biotechnology company focused on the discovery, development and commercialization of medicines that address critical needs for people impacted by rare, autoimmune and severe inflammatory diseases. Our pipeline is purposeful: We apply scientific expertise and courage to bring clinically meaningful therapies to patients. We believe science and compassion must work together to transform lives. For more information on how we go to incredible lengths to impact lives, visit www.horizontherapeutics.com.