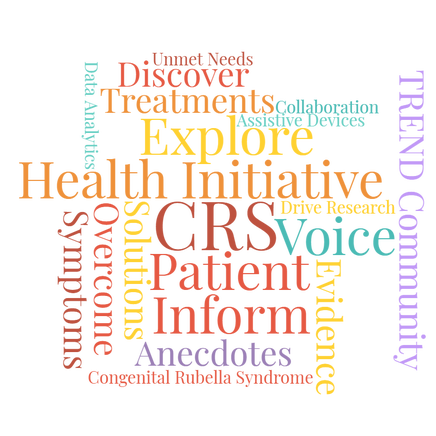 capturing the patient perspective on living with congenital rubella syndrome
Overview
February 1, 2018 – TREND Community is excited to announce The CRS Patient Voice Initiative to capture the patient perspective on living with Congenital Rubella Syndrome.
Rationale
Rubella is an infection caused by a virus, which when contracted by a pregnant woman leads to Congenital Rubella Syndrome (CRS). This underserved group hopes to raise awareness about CRS and collect data to inform: the healthcare system to better recognize, research, and alleviate the symptoms of this disease; government to gain recognition of the disease as a disability and lifelong problem; and survivors of the syndrome to give a clearer picture of the disease.
Exploration Plan
The CRS Community will join TREND and share their stories, daily experiences through journals and years of social media data. All participants will consent to share agree to share their data with TREND Community and back with the CRS Community. Using natural language processing and machine learning techniques, TREND Community will analyze this data to gain insight into the disease burden and progression of CRS. TREND Community's Voice of the Patient Report will inform the medical and research communities. And using what we learn, TREND Community will organize a targeted Health Initiative to empower its patients & caregivers to explore a solution that could ease the burden of one or more of their daily challenges.
About TREND Community
TREND Community is a digital health company with a mission to accelerate the search for treatments and cures while improving the quality of life for individuals living with rare disease. Our flagship application is an invitation-only network of consented patients and caregivers living with rare disease who are engaged in community powered science.
Contact Us
If you are interested in this Exploration, or would like to start your own Exploration, contact us interested@trend.community. Follow us on Twitter @TrendCommunity.